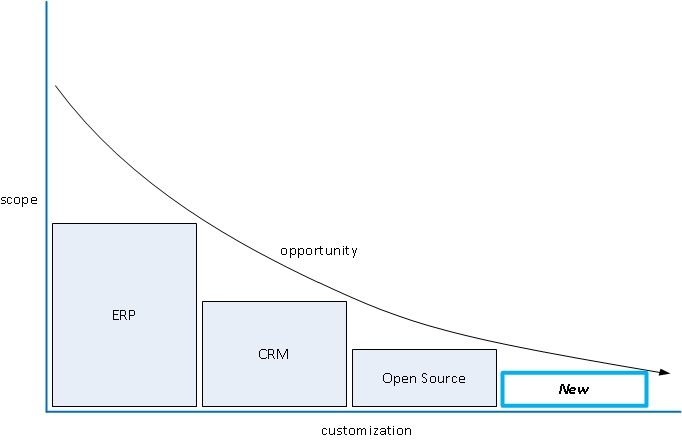 The curve above shows the progression of enterprise systems, from off-the-shelf vendor components on the left, to highly customized solutions on the right.
The y-axis is scope. Off-the-shelf products such as Oracle and SAP ERP are large scope since they provide extensive, general functionality that can cover many basic needs in common with all enterprises or a complete industry vertical.
As a business begins to recognize strategic value in operations information technology, it will grow the technical solutions portfolio to include more specific components that are smaller in scope and have increasingly precise purpose for the business, such as CRM. These are positioned to the right in the diagram. They are more custom to the specific operating needs of each individual enterprise.
At some point, the enterprise will identify a strategic opportunity for a digital solution that is not available from any vendor. Frequently this is in the form of a need for integration between existing components. The enterprise can choose to develop the solution internally, or work with a vendor to create this customized solution.
In either case, this customization will ideally be small in scope, on the far right side of the diagram. By leveraging general off-the-shelf components and limiting customization to only strategic needs such as integration, and where third party solutions do not exist, technology organizations can optimize resources and most efficiently become real partners to the businesses they serve.